The Sween Family
One of Step By Step's casemanagers, after visiting with Pat Sween for the first time, said she felt like she was meeting up with an old friend, not someone she had just met! Since then, Pat and her family (including her children and grandchildren!) have supported Step By Step in countless ways. She and her family have volunteered at our annual Christmas celebrations multiple years in a row. Her daughter has hosted many of our moms at monthly "diapers and donuts" meetings, which have been a great encouragement to the moms who attend. They have also attended our fundraising 5k and lots more! We are so thankful for their generosity and for being so supportive of our team and of the mothers we serve.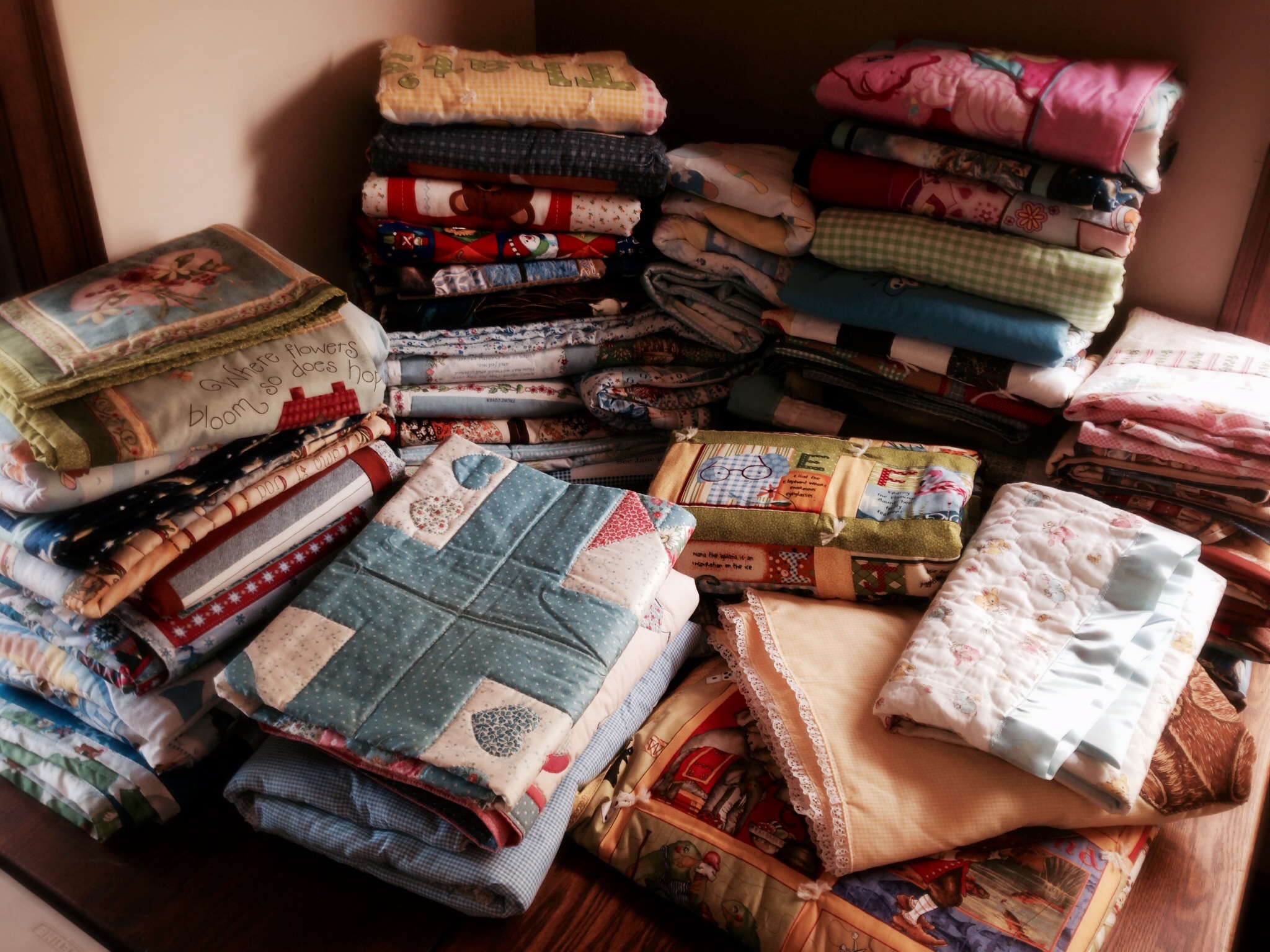 Dora Leichsenring
Sometimes we receive unexpected blessings that just make our day. We had that kind of day when Dora showed up with 50 handmade blankets for new babies! These blankets are truly a labor of love and such a heartfelt gift that we are then able to provide as part of our Welcome Home gifts for our new moms. Thank you thank you thank you to everyone who contributes baby items and diapers and blankets to make these gifts possible. And, thank you Dora for completely wowing us with your generosity and for making our day!
Sherry Meyer
Sherry started volunteering with us a few months ago and has truly become a part of our office team. She comes in multiple times a week and has spent countless hours helping any way she can. She has sorted boxes of donations (mountains of them!), folded baby outfits, sorted diapers, addressed envelopes, assembled charts for our case managers, helped prepare our newsletter and mailings, created Welcome Home Bags for new moms, and lots more. Sherry is also leading a fundraising team for our 5k Walk/Run this Fall! She is fun to have around, and we really appreciate the invaluable time she dedicates on a consistent basis to help fill in the gaps, wherever she is needed.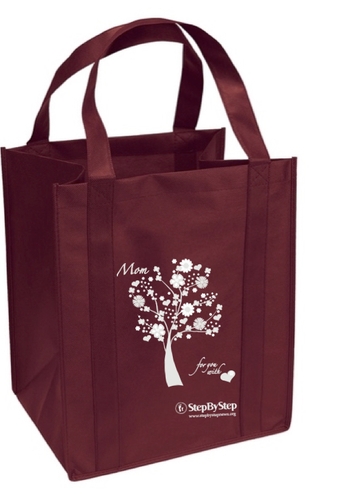 4imprint
4imprint is no ordinary promotional products company. We have loved working with them over the years. They have gone above and beyond many times to help us find creative ways to get the word out about our services. We were recently a recipient of their One By One grant program and were awarded $500 in free promotional products! We used our grant to acquire these beautiful, custom designed canvas bags to use for our Welcome Home bags for new moms. These gifts mean a lot to our new moms and include educational materials, handmade items by donors, as well as baby items, diapers and wipes. These quality bags help make these gifts extra special for our new moms.
The Knotty Ladies, Fircrest Presbyterian & Redeemer Lutheran Church
The Knotty Ladies, who frequently donate handmade baby blankets to Step By Step, called our office to ask if they could include us in their churches' weekend of service event. On Sunday evening, September 21st, Cheryl and Sarah from Step By Step were honored to receive not only a new donation of beautiful blankets, but also diapers, baby wipes, formula and baby food that the two churches had gathered to donate to us. Thank you for your heartfelt generosity and your continued support of Step By Step and the many moms and babies we serve!
Puyallup PEO Group (Philanthropic Educational Organization)
Puyallup's PEO group adopted Step by Step this Christmas season! In place of a gift exchange, they purchased and made items for our "Welcome Home Bags" for new moms. They donated lots of beautiful baby clothes, stuffed animals, diapers and wipes. Thank you so much!
Ryan and Sandi Rehberg & Dori Celestres
Ryan and Sandi have been faithful volunteers and supporters of our annual fundraising dinner and auction event for years! This event takes a massive amount of time and effort to pull off and is our biggest fundraiser of the year. We can always count on Ryan and Sandi to jump in and help wherever needed. We so appreciate your support and willingness to volunteer your time and energy every year. And Ryan, thank you for being one of the most fun spotters ever! We honestly could not do this event without you both. Thank you!
Ryan is an Estate Planning Attorney & CEO of Rehberg Law Group www.rehberglaw.com
Dori Celestres
Dori has headed up our dessert auction for over 5 years! The dessert auction is always a fun element of this event, and Dori never fails to impress us with her ability to bring us fantastic and beautiful desserts. It is no small task to get some 15 desserts and cakes donated (and transported, no less!) to our auction each year. This year we had so many compliments on the uniqueness and beauty of our dessert display. Multiple event managers at Newcastle said it was one of the finest displays they have ever seen! Thank you Dori for taking on this big task and pulling it off year after year!
Jeni Myhre
Jeni is a volunteer mentor who exceeds all expectations. She has a tremendous amount of compassion for the moms and babies we serve. Jeni is great at meeting moms wherever they are at and supporting them emotionally and socially, as they work towards their goals. She has visited with moms in their homes, played with their babies with them, helped with home organization, helped a mom get settled into her new place, but above all else she is simply a positive source of support and a friend. Jeni has a gift of encouragement and is good at helping moms to identify and use their strengths. She has also donated baby clothes and items, helped clean and transport donations, and much more to support Step By Step and the moms we serve.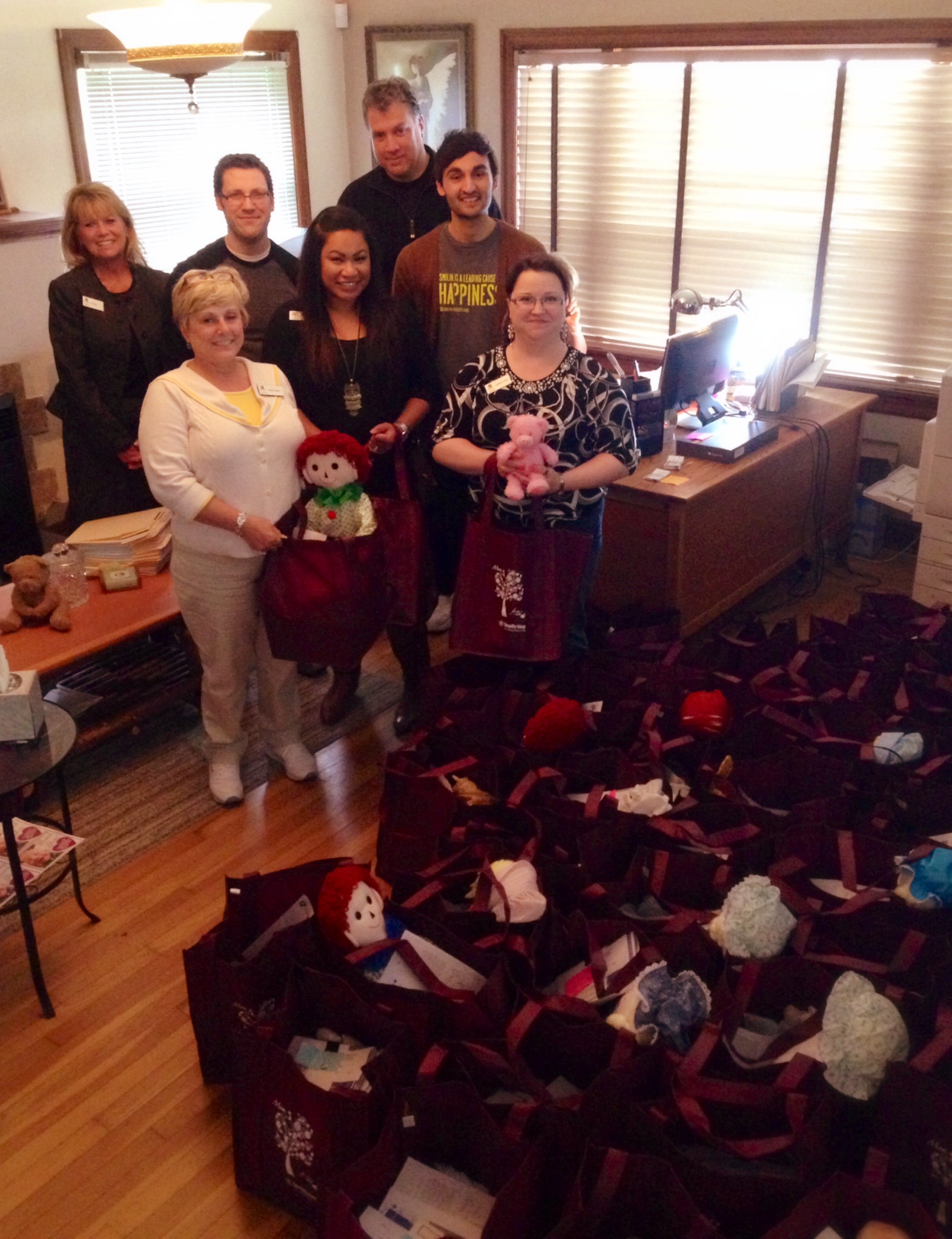 Umpqua Bank Volunteers & Rogers High School Key Club
Umpqua bank employees have volunteered with us a number of times over the past few years. A new group joined us a few weeks ago to help assemble charts, address envelopes, and organize items to put together gift bags for new moms. These guys are amazing workers. They always complete the tasks we give them in record time! This visit, they also put together over 60 Welcome Home bags for new moms.
Rogers High School Key Club
Rogers High School Key Club students surprised us with over 30 blankets that they made and donated for moms and their new babies
Puyallup Food Bank
The Puyallup Food Bank has supported Step By Step in a number of different ways over the past few months, and we are so thankful for their partnership! They donated water and granola bars for our fundraising 5k Walk/Run, as well as candy and supplies for our upcoming Christmas Celebrations. They have also donated diapers and baby wipes, feminine hygiene products, toys, and other donation items that we are always in need of and struggle to maintain and provide for our most vulnerable moms and babies. Thank you!!!
Jim Woolace and Evidence Designs
Jim donated his graphic design skills to help us design the event t-shirt for this year's fundraising 5k Walk/Run. He also donated his time as a professional photographer to cover the event and took some fantastic photos!
Sherri's Cookies & The Tacoma Rescue Mission
Sherri's Cookies
Not only did Sherri offer to make cookies for our kids' Cookie Decorating station, for this past weekend's South Christmas event, but she also made cookies for our volunteers! She made these AMAZING custom designed sugar cookies to help us thank the hundreds of volunteers at our South event that make this event possible for the families we serve. We were totally blown away, and these cookies tasted as good as they looked! Sherri, we can't thank you enough for your thoughtfulness. These were wonderful!
Tacoma Rescue Mission
The Tacoma Rescue Mission has been providing the mashed potatoes for the dinner at our annual Christmas events for the last ten years! They donate potatoes to feed approximately 1,200 people! One of the churches that hosts this event does not have a kitchen, and providing this dinner would be significantly more difficult without the support of the Rescue Mission. Thank you so much for serving our families and helping us to make this event possible each year!