Join Our Volunteer Team
We've all heard the phrase "it takes a village to raise a child." It is true for all families. However, many of the families we serve hardly have one positive influence in their lives, much less a "village." If you would like to be a part of bringing hope and health to these mothers and babies, we have many ways for you to join our team!
Here are just a few ways you can make a difference:
Fold brochures or assemble newsletter mailings

Attend or volunteer at a fundraising event

Hold a drive to collect diapers or baby items

Help make Welcome Home Bag gifts for new moms

Make layettes or baby blankets for new moms

Sort & organize donations

Assemble food bags

Assist with office cleaning or yard work/groundskeeping
MEET OUR
Volunteer Champions of the Month
2019
Coming Soon
KELLER WILLIAMS REALTY - PUYALLUP, WA
Late last year, we were approached by Katie England, from Keller Williams of Puyallup, as their office of realtors were looking to help a family in need, during the holiday season. We were able to link them with one of our moms, who had recently fled a domestic violence situation from another state and arrived here with nothing. She was pregnant with her third child, working, going to school, and living with relatives. She really needed help getting started in her own place, as she didn't have enough money to get into an apartment, much less furnish it or purchase the things she needed for the baby she was expecting.
We have to say, the staff at this Keller Williams office have beautiful hearts. They gave so generously of their time and resources. In January, we were able to not only help this young mother locate and get into an apartment but also furnish it, for her sweet family. Katie continued to stay in contact with this mom and provided support and encouragement throughout this challenging transition. To see this community of people come together and go above and beyond to care for one of our Step By Step families is amazing! Thank you so much!
BILL & DONNA O'RAVEZ
Words can not begin to express the faithful encouragement and support that Bill & Donna O'Ravez have offered Step By Step, over the years. Longtime friends, donors, and volunteers, they continue to give of their time, talents, and treasure, selflessly and generously.
When they began to take steps to retire and close their family business, after generations of growing premium flowers and baskets for the community, they approached Step By Step with an idea to pass on their business to benefit our work and help moms and babies in need. Over the past few years, they have been teaching us how to grow their renowned flower baskets and will eventually step back and allow us to take the reins. In the meantime, they are generously volunteering their time and energy to grow alongside us. They are excited to help us open our first greenhouse, onsite at our location, this Spring.
We will forever be grateful for their friendship and ongoing support of our work. They are irreplaceable and well-loved members of our Step By Step family.
KELLER WILLIAMS RED DAY
On May 10th, the Keller Williams Realty Puyallup team arrived at Step By Step in force, as a small army of over 60 red-shirted volunteers!
They descended on our site and made quick work of a long "to-do" list, everything from landscape work, painting, assembling newsletters and brochures, tearing down a retired play set, removing some diseased trees, cleaning and sweeping in our onsite greenhouse, donating and tying up stacks of diapers, and lots more!
This crew of realtors and office staff were crazy hard workers and an absolute joy to be around. We love their " Give Where You Live" motto! Thank you so much for all your hard work!
LDS SOUTH HILL STAKE
An energetic group of girls from the LDS South Hill Stake community spent a day collecting donations and tying diapers for our Step By Step babies. They delivered 1,500 Newborn diapers (which are always our biggest need!) along with 40 pacifiers, 850 size 1-2 diapers, baby wipes, toys, books, hygiene items, a car seat, and 86 cute baby outfits.
We are so thankful for these young ladies and their families, who gave so generously. Thank you for sharing the love!
PUYALLUP FOURSQUARE MINISTRY INSTITUTE
An incredibly fun and enthusiastic group of college students from the Puyallup Foursquare Ministry Institute brought their muscles to Step By Step and checked off an impressive To-Do list, in less than 2 hours!
They tackled the first demolition project of our remodel (pulling up patio pavers and stacking them neatly for re-use), set up all the chairs and tables for an event the next day, moved office furniture and greenhouse supplies, and reorganized storage spaces. They also assembled over 1,000 utensil sets for our annual family Christmas event that we will be hosting for our moms and their families in December.
We were so blessed by the beautiful hearts of these volunteers, as they smiled and joked together, while working so hard. Thank you for your continued support of Step By Step and the mothers and babies we serve. We hope you will come back again very soon!
TRILOGY AT TEHALEH
Trilogy at Tehaleh, a local 55+ community, hosted a "Baby's First Christmas" fundraiser in November, to support Step By Step and meet the needs of some of the mothers and babies we serve. Their efforts brought in over 2,000 diapers, 5,000 baby wipes, and piles and piles of infant clothes, toys and baby gear! They also raised over $2000 in cash donations and arranged for a 3 - 1 match from the Gates Foundation. Altogether, they will have contributed over $8,000 in donations! We are so thankful for all of their hard work, kindness, and generosity!
SUSIE CHRISTENSON
Over two years ago, Susie Christenson read about Step By Step on Facebook and resonated with our mission of helping moms build happy, healthy families. She decided to join our volunteer family and brought her variety of diverse talents to serve alongside us.
Susie works incredibly hard and has volunteered countless times. She is particularly helpful assisting with events, ensuring that each one turns out beautifully. From the early planning stages, right down to the late night work parties, she helps us get every detail just right.
We love her willingness to take on any task. Lately, you can find her assisting with office tasks or helping to plant flower baskets for our greenhouse. She says what she enjoys most about volunteering are the wonderful people she has met along the way. Your Step By Step family loves you, too, Susie!
COLUMBIA BANK
We were honored to have been chosen for Columbia Bank's volunteer day, as a part of a company-wide week of service, in recognition of their beloved former CEO Melanie Dressel.
Melanie was a mentor to Krista Linden, our Founder and Executive Director, for two years. Krista says "Melanie was clearly very intelligent, but she also had a unique combination of grace and strength. She was an exemplary leader, and to continue remembering her through giving back is perfect!"
Thank you, Columbia Bank employees, for planting our flower barrels, weeding and sweeping around the property, and donating diapers for our babies!
DAVE HANSON
Dave Hanson joined our volunteer family, the day after he retired from Boeing. He has been a volunteer leader on many projects in our greenhouse. From planting tiny flowers, to lifting huge moss baskets, to experimenting with growing vegetables, Dave cheerfully does it all.
Several years ago, Dave discovered Step By Step, when he helped volunteer at our annual Christmas party. He told us, "While I was considering retiring, I knew I did not want to retire to 'nothing'. I heard Step By Step had begun the process of purchasing the former Van Lierop Bulb Farm site. I have farmed and been an avid gardener for many years. When Krista shared her vision for the property, to provide jobs and job training to help mothers, God immediately laid it on my heart that this could be a perfect fit for me. Krista loves the idea of doing some mini-farming on the property, we now have a gorgeous greenhouse, and I am all in!
And, we are so happy to have you on our team, Dave! Thank you!
LORI WILKERSON
Lori Wilkerson began volunteering with Step By Step over a year ago, after she moved to Puyallup from Clarkston, to be near her children. Her daughter Robbi introduced Lori to Step By Step, and she has been a weekly volunteer ever since, faithfully filing paperwork, addressing envelopes, assembling newsletters, and whatever else we need help with around the office. Lori says she enjoys doing something constructive to help our client moms, and she truly enjoys office work!
Lori retired in 1999 after 30 years with Napa Auto Parts, but never stopped "working" as she volunteered hours upon hours at St. Joseph's Hospital in Lewiston, the food bank, and the senior center. We're thankful she has found a home in our volunteer family.
KRISTIE MARCOTTE
Kristie has been volunteering her beautiful talent of card making to Step By Step, for over a year now. We love to send her handmade cards to donors, volunteers, and our client moms, with handwritten notes of thanks and encouragement. Kristie has been making cards for 15 years and often donates her work to nonprofits.
Kristie heard about Step By Step from our friends at East Main Vision Clinic. Now, she regularly delivers boxes of cards to our doorstep. In her words, "I am so grateful for the support and love that Step By Step provides to those that may feel alone while they are struggling with pregnancy or the challenges of motherhood. I believe even the smallest act of kindness can change a person's life." Thank you, Kristie. We believe so, too!
BRIANNA HOWE & VIE ATHLETICS
This December, Vie Athletics Coach Brianna Howe and members of the Puyallup Vie location hosted a giving tree and purchased gifts for over 35 of our Step By Step moms and their families! Vie has been faithfully supporting Step By Step for a few years now. They have been the Presenting Sponsor for our 5K Walk/Run for the past two years. They hosted a team and came out to support us, along with a large group of their "Vie Babes"! They have also held diaper drives and donated baby items. We love their focus on strength and sisterhood, and we are so thankful for their continued support.
Shelley Roberts
After attending our Mother's Day event two years ago, Shelley joined our volunteer family. She had recently retired and loved the energy and mission she found at Step By Step.
Together with her talented sisters, she sews sleep sacks, burp cloths, and bibs for our new babies. In addition, she can be found almost every week organizing our donations of children's clothing and helping with office work. Being a new grandmother herself, to sweet Auri, Shelley is tuned in to the needs of new families and does an awesome job helping provide resources for our moms and babies.
Anne Huscroft & Mary Baldridge
In preparation for our 20th Anniversary dinner and auction event, Mary Baldridge, of Interior Design by Mary, and Anne Huscroft, of A Little Something, spent numerous hours up to their elbows in flowers and greenery designing and creating this year's gorgeous table centerpieces.
Along with several other helpers, these two talented volunteers created stunning floral arrangements that many of our auction guests were able to purchase at the end of the evening.
Mary and Anne have helped on many other occasions here at the farm, when decorating and flower arranging are needed. We are so thankful for them and their artistic talents!
Linda Wakeley
Linda has been a regular volunteer at Step By Step, since July of 2016. Learning that a local nonprofit had purchased her beloved Van Lierop Bulb Farm, where she had shopped and photographed the gardens for many years, she had to check us out. As a retired occupational therapist for the Federal Way School District, she was drawn to our mission of helping moms and babies through maternity support. Invariably, she brings with her whatever we need most at the time. She brings diapers, binkies, treasures from her attic for our gift shop, and flowers to brighten up the pots in the garden. She says, "I enjoy the versatility of tasks and jobs I'm given, from office work, sorting donations, working in the flower beds, and occasionally rocking a baby. Most of all, I appreciate the warm and friendly staff and other volunteers." Thank you, Linda! We appreciate you!
Puyallup Valley Dental Care
Our clients and their families have been blessed by the generous donation of professional dental services that Dr. Steven Urback and his wonderful staff at Puyallup Valley Dental have given. On several occasions this year, a mobile dental van from Medical Teams International has come out to our office location, so that Dr. Urback, assisted by his staff, could volunteer and offer free dental treatments for our Step By Step moms and their families. Other Step By Step volunteers also helped, by cooking delicious breakfasts for the clients and caring for babies and toddlers, while their parents were receiving care. Thank you for contributing to our clients' health, in such a tangible way!
East Main Vision
This summer, Dr. Day and our dear friends and supporters from Dr. Joseph Day East Main Vision Clinic hosted a diaper drive for our moms and babies, collecting a total of 1,778 diapers, plus cash donations to be used for other baby necessities. Dr. Day and his East Main Vision office faithfully and generously support the women and families we serve!
Evergreen Restoration
Just before Thanksgiving this year, we were approached by Evergreen Restoration of Puyallup, wondering if we knew a family they could bless with a holiday meal. Of course, we said, "Yes!" Owner Dianna Sims graciously and generously provided a lovely meal, with extra special touches, to one of our client families. And, two of our own volunteers were able to deliver it. Thanks for your commitment to bettering our community, Evergreen Restoration!
Grace Community Church Youth Group
On a frigid Saturday, in early February, a dedicated group of High School girls from the Grace Community Church in Auburn gathered at the farm to tackle a big project. They sorted bags and bags of donated baby clothes and bundled them into coordinating outfits.
As part of a winter retreat, where they spend a portion of the weekend serving the community, they and their adult leaders cheerfully and tenaciously worked away in our cold storeroom to help make sure our babies will be dressed cutely and warmly. You girls rock!
Maple Lawn Elementary School
This Spring, an ambitious and compassionate group of 4th and 5th graders from Maple Lawn Elementary School in Sumner held a diaper drive for our Step By Step babies. Mentored by Kathy Hayden from the Sumner Rotary, through a program she developed called Early Act, and led by their teacher, Jeanne Ossman, the students created posters and managed the logistics of a school-wide drive. They brought in over 4,400 diapers to help keep our babies dry and happy!
Gratitude House
On a beautiful June day, a delightful group of women, who live at the Gratitude House in Tacoma, came for an outing at the farm, along with their house director, Carol Newell, and volunteer mentors from the community. They enjoyed a picnic on the patio and then took up garden gloves and tools to help rid our flower beds of weeds. We love it when our volunteer family offers to weed! The outing was organized by Pam Rayburn, who volunteers with the home. The Gratitude House provides a structured, safe place to call home for women recovering from addictions. Thank you, ladies, for volunteering with us!
Anne Poppino
A year ago, Anne began volunteering in our Step By Step office. Right away, we wondered how we ever managed without her. She enjoys creating order out of chaos... a skill often needed around here! When asked what drew her to volunteer she said, "I found myself with time and energy and a desire to contribute in some way, and I had a friend who worked for Step By Step. When I learned what the volunteers do, I thought I'm good at those things!" We wholeheartedly agree. Thank you, Anne!
Rachel Hull
Rachel has volunteered with Step By Step for almost a year now, after learning about us from one of her friends. We are so grateful for Rachel and her willingness to do anything she's asked. She has been a huge help, both at events and here at the office. When our office manager went on vacation this fall, she came in daily to answer the phone and handle our client referrals… a massive job! Rachel says she loves the mission of Step By Step and is thankful for the opportunity to be a part of the work here. We're glad you're part of the family, Rachel!
Everett Blankenship
Everett recently became aware of Step By Step and has followed our work with great interest. He was delighted when Krista approached him about helping with the Santa Photo station, at our annual Christmas events. Everett runs a small photo booth business and his skills and speedy printer helped us spread holiday cheer, and families were able to go home from the events, with Santa photos in hand. Everett says he was touched by the dedication of the "sea" of amazing volunteers and looks forward to future projects.
Mr. Everett's Photo Booth
http://mreverettsphotobooth.com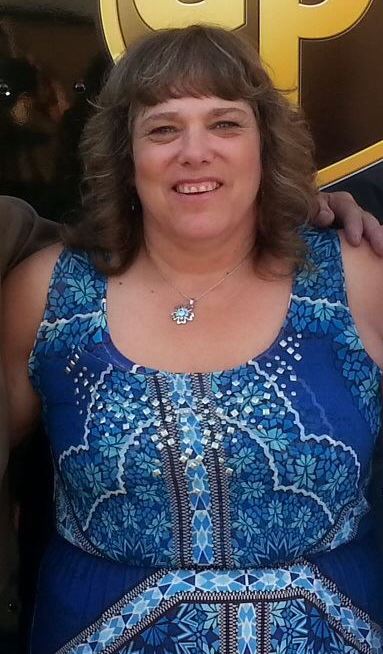 Patty Thomas
Patty joined our volunteer team at the perfect moment. We were scrambling to prepare for our big ribbon-cutting ceremony. From creating beautiful ribbon bows, to helping us decorate beautifully, to literally scrubbing toilets, Patty truly helped make everything lovely for the ribbon-cutting event. She is a multi-talented lady, and we are thankful to have her as part of our Step By Step volunteer family!
Donna Butts
Some people come into your life, and you don't know how you ever got along without them beforehand! For us, one of those people is Donna. She started volunteering with us and has completely embraced all we have asked her to do. She takes great care with helping to keep our baby room organized, which is no small feat. She calls it her "labor of love" and it certainly is! Donna, we are so thankful to have you as part of the Step By Step Volunteer Family. Thank you for all that you do for us - we couldn't do it without you!
Puyallup South Hill Rotary
We had an abundance of tulips and other flowers that needed to be cared for and wrapped into bouquets, in preparation for our 2nd annual Mother's Day event. Thank you to Cyndi Anderson who helped organize a volunteer sign-up for the Puyallup Rotarians. We had plenty of hands on deck to help. They were even kind enough to help us out with some of the weeding around the farm, to help make the place look great for our event. Thank you so much Puyallup Rotary for coming out to the Farm and helping us get ready. We appreciate you!
Johnette Schiesz
Johnette first heard about Step By Step years ago, from a young mom who was a client with Step By Step. Afterwards, she put a note up on the desk at her Massage Therapy & Pilates Studio, "Malulani", with information about Step By Step and needed donation items. It wasn't long before the donations began to come in. Since then, she has continued to put out copies of the newsletter, News Tribune articles, and other related news and events. She says, "Folks just keep on giving!" Many of the donors are clients. Others are friends of her clients or friends of friends. One of the women that she has never met was looking for something to do, following the recent loss of her husband, and she now knits blankets and hats for Step By Step moms. Another friend of a friend drops off two cases of diapers or wipes, whenever Costco has a coupon. Another client makes it her mission to find newborn diapers, because she knows how quickly we go through them. Thank you, Johnette, for all your support!
Ministry Institute Interns
Over 90 students from Puyallup Foursquare Church came out to the farm for a volunteer day. Led by Hannah McGunagle, they worked hard, were incredibly polite, and knocked out jobs that would have taken us weeks to complete! They helped us clear a large weedy area of ground and build stations for our 5K Kids' Obstacle Course, assembled over 1,000 diaper packs for new moms, tied up over 1,200 silverware sets for our upcoming family Christmas dinner and celebration, stuffed 1,000 envelopes for a mailing, helped organize baby clothes and blankets, made Christmas decorations and centerpieces, and muscled around a whole bunch of tables, chairs, and other assorted furniture to make our storage much tidier! We really enjoyed having them and are extremely grateful for all their hard work!
Nancy Sick & Beta Sigma Phi
Step By Step had the pleasure of hosting a work party for the service sorority, Beta Sigma Phi, here at the farm. This delightful group of women, organized by Nancy Sick, spent the morning crafting and assembling 22 beautiful family gift baskets. The baskets were raffled off as prizes at our south end family Christmas celebration. The group generously brought a number of gifts and donations to add to the gifts. These baskets are a highlight for many of our moms and give them and their families the opportunity to spend some fun, quality time together during the holidays. Thank you, Nancy and crew!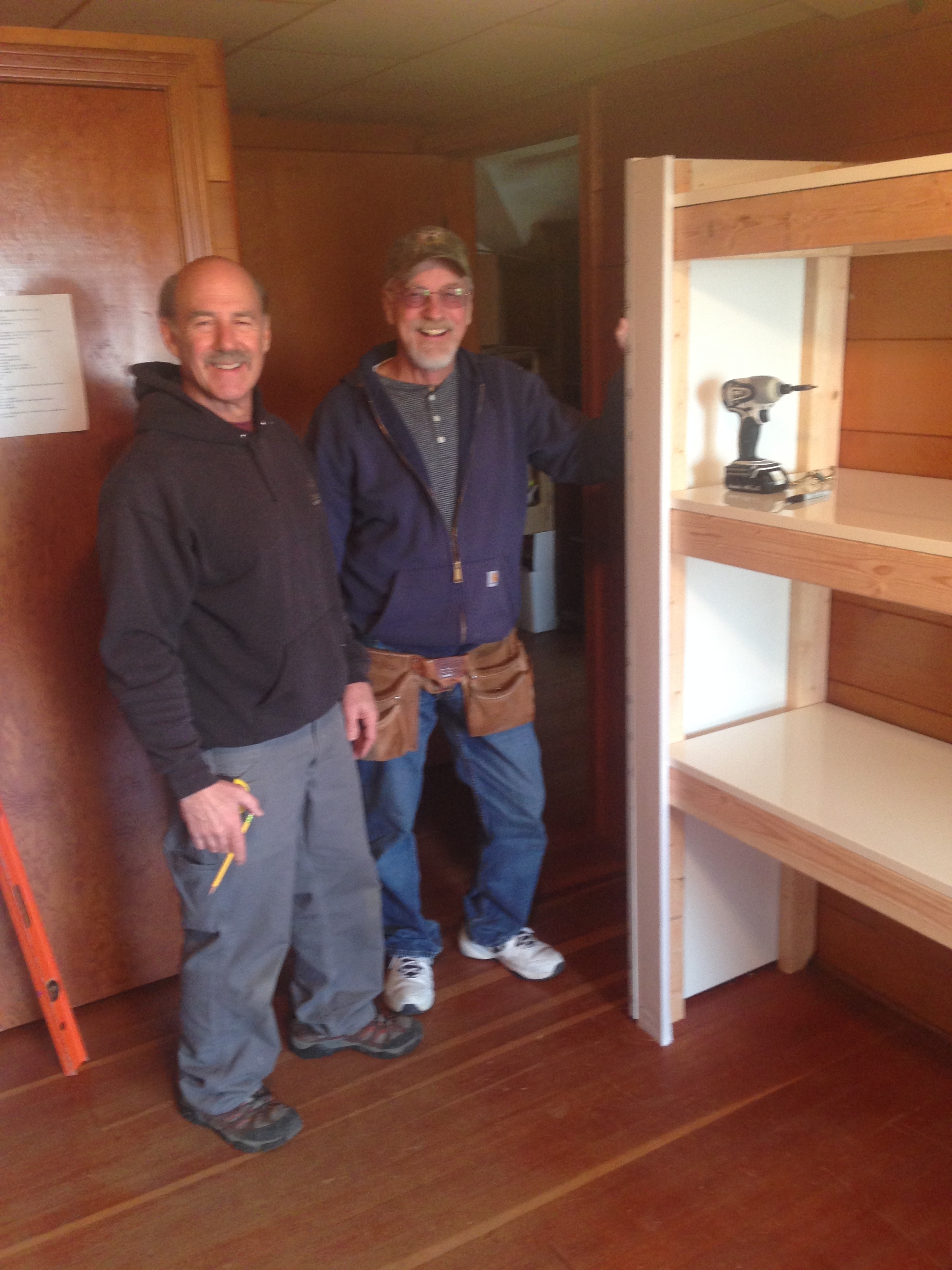 Dave Teodoro and Ron DeVany
When one person is a member of our Step By Step Volunteer family, oftentimes other members of that volunteer's family join in alongside. Nancy Teodoro, a regular volunteer at Step By Step, asked her husband and brother if they would be willing to build us some shelves, for our baby supply room. The result was a large set of shelves which are helping us to streamline and organize our donation room for baby items. We are so thankful for their expertise. Thank you Dave and Ron for your time and talents, and for donating all the supplies to make these awesome shelves for us. They are great! We are already plotting our next building project for them!
Starbucks Corporate
Step By Step had the pleasure of hosting 8 wonderful employees from Starbucks Corporate in Seattle out at the farm for a work day. They did everything from scrubbing toilets to washing windows, lots and lots of sweeping, and "weeding for days"! We are so thankful to Starbucks for lending us their super awesome team to help spruce things up around here, as we prep for our upcoming Mother's Day weekend event. Special thanks to Trisha Dintelman for organizing the group and making it happen. Thank you Starbucks corporate!
Heather Volkers
Heather serves in an official capacity on Step By Step's Housing Board, but she has been generously volunteering her time and expertise for over 10 years. She is a lead committee member and heads up the registration and checkout team for our annual fundraising dinner and auction. She has volunteered at our Mother's Day events and at our annual 5k Walk/Run as both a volunteer and a Team Captain for the awesome Stepping Stars team. She leads and trains volunteers, assists with countless admin projects, and she recently helped organize and run our Summer Family Picnic and Free Yard Sale for our moms. She is always jumping in to help, and we literally do not know what we would do without her. Heather, you are amazing!
Sue Larson
Sue taught Kindergarten and 1st Grade for 16 years in the Sumner School District and 5 years at a Co-Op Preschool. She chose to volunteer with Step By Step, because she is passionate about helping to give children a healthy and positive start to life. She loves that Step By Step helps women gain skills and build confidence in themselves. She has been a volunteer with us for a little over a year now. Sinceshe retired, she has been one of our regular weekly volunteers in the office and has helped with outside events as well. Her organizational and people skills are awesome and we love her sweet cheerfulness! Thank you, Sue!
Just Between Friends
Allison Stephens, the coordinator for the Just Between Friends Tacoma event, generously invited Step By Step to be one of their local charity partners. We were able to host an information booth at the event and were the recipient of a huge amount of donations, at the end of the sale. Our volunteers spent hours upon hours sorting and organizing donated baby clothes and supplies. We received several carloads of unsold children's clothing, strollers, pack-n-plays and toys. Our case managers were thrilled, and many of these items have already been given to some of our moms in need. Thank you!
Karin Crane
Karin is our superhero volunteer for December! She took on the lead volunteer job of being the liaison between Step By Step and Lighthouse Church, to help with the tremendous amout of work that goes into planning and orchestrating the South end Christmas celebration.
She recruited the Team Leads for all of the stations, rallied roughly 300 volunteers from the church, coordinated programs and registration, helped bring in donations, and made sure that no balls were dropped. She pulled off this Herculean task with patience, grace, and superb organizational skills. This year's event was the largest party we have ever had. It was beautiful and memorable for us and for the many families that attended.
Karin, thank you for your kindness, enthusiasm, and tireless effort to make this year's event fantastic. You truly are a superhero in our story!
Louanne Nilson
Louanne is a definite favorite here at Step By Step! She started volunteering with us in September and does everything we can think to ask her to do, from stuffing newsletters, to washing rocks for our centerpiece vases for an event, to putting together Welcome Home Bags for new moms. Whenever we have a special project or a deadline that needs to be met, chances are that Louanne will be here, helping us to get it done. Louanne always serves with a smile on her face and brings joy to our office whenever she is here.
Louanne, thank you for the many hours you have dedicated to Step By Step. You are an invaluable member of our team!
Daffodil Princesses
Our day got just a little bit brighter, when 24 lovely Daffodil princesses showed up on our doorstep to help us with assembling Welcome Home bags for new moms. The Princesses formed a very long and very yellow assembly line and filled our bags with needed supplies for our moms and babies. They did it all with a smile and while dressed in their long yellow Daffodil formals and gloves. Now, that's talent!
They were also treated to some wonderful stories about the Van Lierop Bulb Farm from Mr. Neil Van Lierop, which included a tour of the site. We are very thankful for all of their help and for their hearts to serve at Step By Step.
Keller Williams
Wow, that's about all we can say about Keller Williams right now, just wow. They graced the doors of Step By Step early on the morning of May 14th, for their Keller Williams "Red Day" - a designated time when Keller Williams gives of their time to help throughout their community. We benefitted so much by their amazing volunteers who showed up to paint all of our offices. They transformed our space from pastel pink and lime green to something a little more neutral, and painted some beautiful accent walls with our signature Step By Step color. It turned out great and we are enjoying the fruits of their labor. Several folks also helped us out by weeding flower beds, putting together welcome home bags for our moms, and running a multi-store diaper drive which brought in over 18,0000 diapers. Thank you Keller Williams for all of your time and generous efforts. We are so thankful for your partnership with us!
The "Christmas in July Party" Team
This year, we started our first ever "Christmas in July Party" at Step By Step. A group of wonderful ladies volunteered to help us get a jumpstart on all the the prep work that needed to be done for our annual Christmas parties. We put on Christmas music, had Christmas cookies and snacks, and got to work doing inventory of all our supplies and rolling utensils for the Christmas dinner. These ladies know how to make a Christmas in July work party a lot of fun. Thank you Brenda Brewer, Mary Lindsley, Louanne Nilson, Breyale Rosand, Myrna Rosand, and Shelly Roberts! We appreciate you
Ministry Institute College Interns - from Puyallup Foursquare Church
We hit a new record for the most volunteers at our office at one time, when the interns from Puyallup Foursquare Church arrived to help. Over 90 showed up to volunteer! They arrived with a smile on their face and willing hearts to work, and work they did! They took on all sorts of different projects, from administrative work, to helping finish off the utensil rolling for our Christmas dinners (we need 1500 sets of utensils rolled!) to helping prep for our 5K, and even some office cleaning. Whatever we needed, they did, and they even serenaded us with singing, as they worked. They are indeed a very special group of young people, and we are thankful that they decided to partner with us! We hear they may make a reappearance in the Spring, and we sure hope so! Thank you!
Hydie Fenton
Hydie has become a familiar face around Step By Step. She does a little bit of everything! She helped us organize and prepare for our Christmas parties a few weeks ago, and she volunteered at the South party. She has sorted (and stacked!) thousands of diapers. She has helped prepare our quarterly newsletter, addressed envelopes, inventoried items, sorted baby clothes, and lots more. You name it, she's probably helped with it! She has a beautiful smile and a beautiful heart. Thank you Hydie for being part of our Step By Step team!
Northview Youth Group
Student Ministries director of Northview Community Church Brookes August has a lot to be proud of, as his youth group team of 6th - 12th graders brought in a total of 4, 914 diapers as a result of a diaper drive they held for Step By Step!
Students were encouraged to donate the diapers out of their own money, and both the Jr High and High School groups combined to make it a huge success.
Northview Kiwanis
The Northshore Kiwanis club hosted a drive for Step By Step that brought in 18 bins of food, household supplies, and baby items. They also procured 7 grocery gift cards and over $400 in donations for Step By Step.
We'd like to say a special thank you to Adam Brown, Andrea McDaniel, and Sue Buske who headed up the event.
Brenda Brewer
Brenda has become a huge favorite here at Step By Step. She is acutely aware of what is needed (ie newborn sized diapers, beautifully wrapped in purple ribbon). She has delivered donated car seats, baby clothes, and lots more. Whenever we see white bags filled with diapers, we know that Brenda has been here! She also lent us her wonderful crafty talents, as she made several beautiful diaper cakes for our Mother's Day event in May. Brenda didn't stop there, as she also brought along her daughter Julie and friend Patty Thomas to add to our volunteer team. We are so thankful for her amazing generosity with her time, talents and treasures here at Step By Step. Thank you so much Brenda - you are truly making a difference in the lives of our Step By Step moms,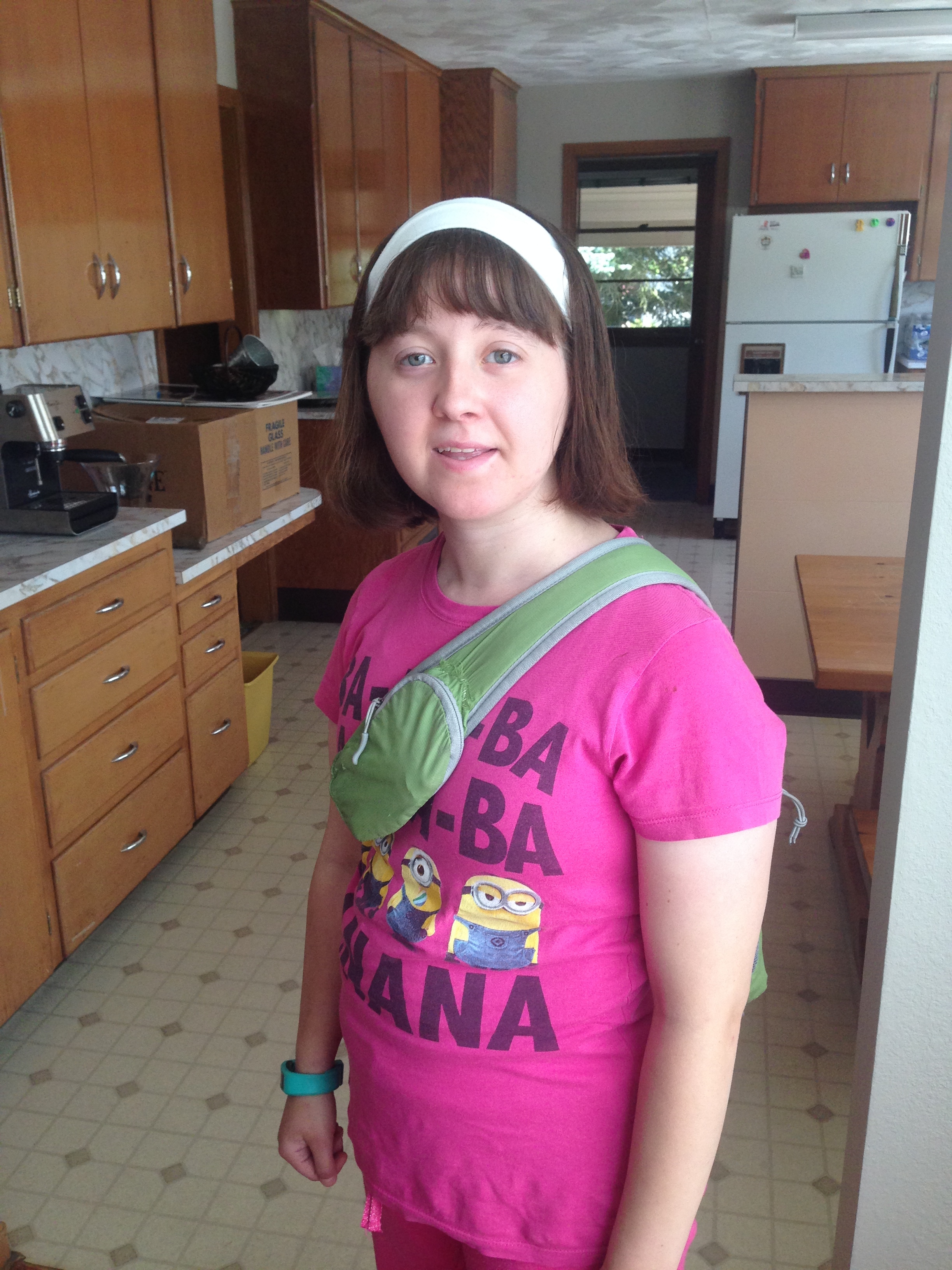 Kayla Cushing
Kayla has started working with us here at Step By Step, sponsored through the Trillium organization. From bundling diaper stacks, to sorting baby clothes, putting together welcome home bags, and assembling our informational folders, Kayla always works hard and always gets the job done while keeping that great smile on her face! Thank you Kayla for all of your help, we really appreciate you!
Nancy Teodoro & Robbie Heath
These two ladies are affectionately called "the dynamic duo" around here at Step By Step. When they come and work together, we know that whatever they get done will be done with love, care and excellence, and in record time! We knew they were winners when they still came back after serving their first day. It was a record breaking hot summer day and our upstairs baby room was more than a little bit toasty! We joked that they got their "hot yoga" in for the day. They didn't complain, and they are still going strong, helping out with anything that is needed. They are proof that you can make anything fun, when you are working together with a friend for a good cause!
Shanna and the Puyallup Food Bank
The Puyallup Food Bank has been an invaluable resource to us this year. Not only have we acquired a whole new respect for Shanna, the Executive Director-Master Forklift Driver-Super Woman, who runs the Puyallup Food Bank with some serious pizzaz, but they have helped us out in multiple ways this year. We were given snacks and drinks for our fundraising 5k, canned goods and food items for our moms, diapers, baby wipes, food items needed for our Christmas parties, and lots more. A few weeks ago, Shanna texted Cheryl that she had something special for her, and she gave us these beautiful chocolate covered fortune cookies for our Volunteer Leaders' thank you gifts. Shanna, you continue to bless us and our families. Thank you for your support and encouragement!
Dr. David Crouch's Orthodontist Office
Dr. David Crouch's office set up a Giving Tree in their office, starting in November, to bring in gifts for some of our moms and their children. They donated a sleigh-full (aka completely filled two of our staff vehicles) of beautifully wrapped presents, for over 50 of our families! When they arrived at the office, we completely filled the kitchen area with gifts. The staff couldn't stop gushing about them all day long. As we write this, all those gifts are getting loaded into different case manager's vehicles, so they can hand deliver them to their client moms. Many of our families really struggle during the holidays, and these gifts are going to bring a lot of Christmas cheer! Thank you so much for your generosity and thoughtfulness!
The Sween Family
One of Step By Step's casemanagers, after visiting with Pat Sween for the first time, said she felt like she was meeting up with an old friend, not someone she had just met! Since then, Pat and her family (including her children and grandchildren!) have supported Step By Step in countless ways. She and her family have volunteered at our annual Christmas celebrations multiple years in a row. Her daughter has hosted many of our moms at monthly "diapers and donuts" meetings, which have been a great encouragement to the moms who attend. They have also attended our fundraising 5k and lots more! We are so thankful for their generosity and for being so supportive of our team and of the mothers we serve.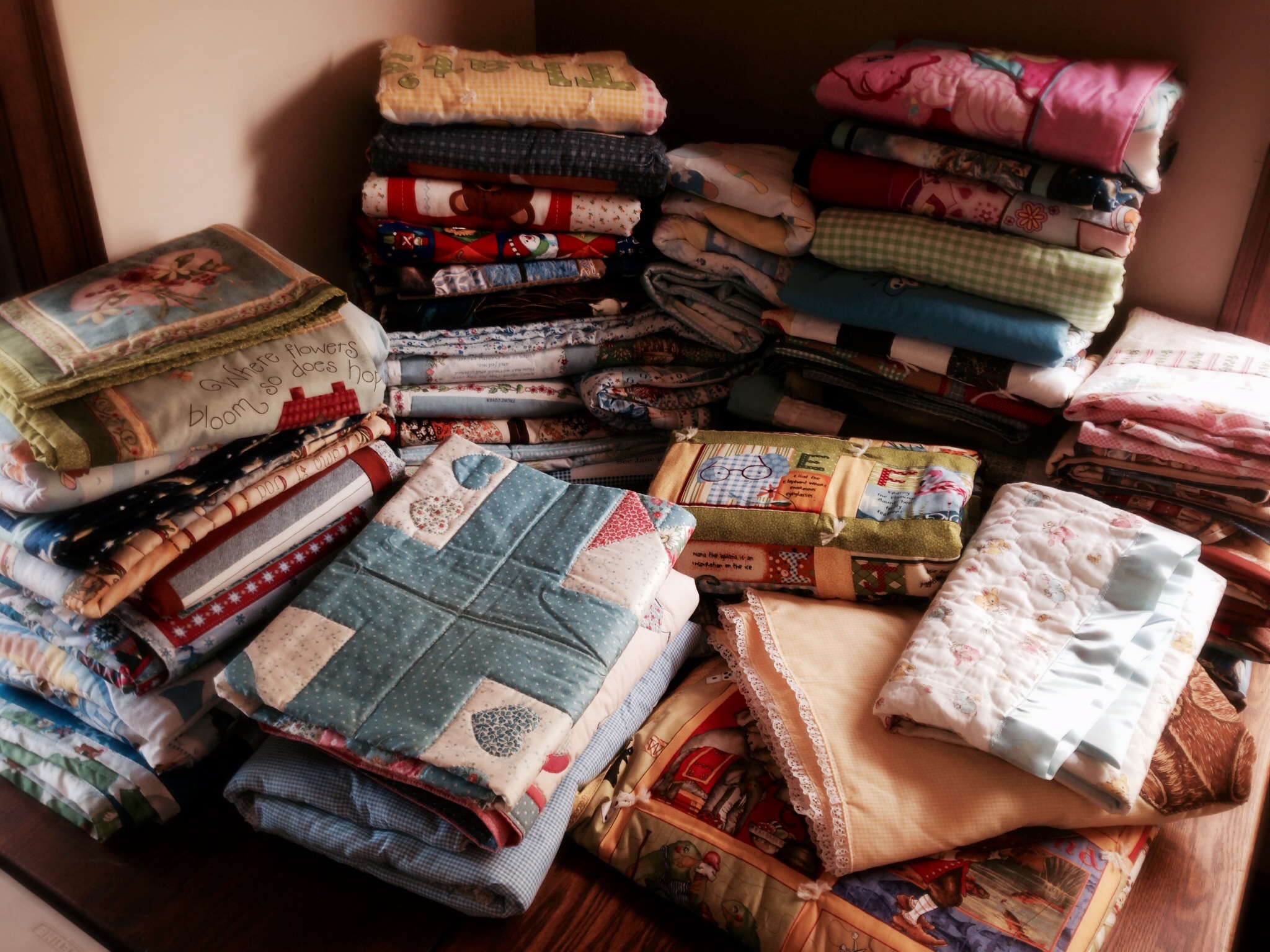 Dora Leichsenring
Sometimes we receive unexpected blessings that just make our day. We had that kind of day when Dora showed up with 50 handmade blankets for new babies! These blankets are truly a labor of love and such a heartfelt gift that we are then able to provide as part of our Welcome Home gifts for our new moms. Thank you thank you thank you to everyone who contributes baby items and diapers and blankets to make these gifts possible. And, thank you Dora for completely wowing us with your generosity and for making our day!
Sherry Meyer
Sherry started volunteering with us a few months ago and has truly become a part of our office team. She comes in multiple times a week and has spent countless hours helping any way she can. She has sorted boxes of donations (mountains of them!), folded baby outfits, sorted diapers, addressed envelopes, assembled charts for our case managers, helped prepare our newsletter and mailings, created Welcome Home Bags for new moms, and lots more. Sherry is also leading a fundraising team for our 5k Walk/Run this Fall! She is fun to have around, and we really appreciate the invaluable time she dedicates on a consistent basis to help fill in the gaps, wherever she is needed.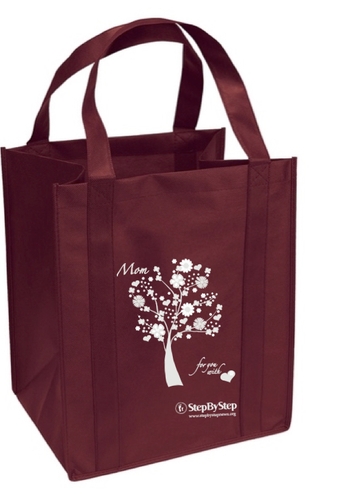 4imprint
4imprint is no ordinary promotional products company. We have loved working with them over the years. They have gone above and beyond many times to help us find creative ways to get the word out about our services. We were recently a recipient of their One By One grant program and were awarded $500 in free promotional products! We used our grant to acquire these beautiful, custom designed canvas bags to use for our Welcome Home bags for new moms. These gifts mean a lot to our new moms and include educational materials, handmade items by donors, as well as baby items, diapers and wipes. These quality bags help make these gifts extra special for our new moms.
The Knotty Ladies, Fircrest Presbyterian & Redeemer Lutheran Church
The Knotty Ladies, who frequently donate handmade baby blankets to Step By Step, called our office to ask if they could include us in their churches' weekend of service event. On Sunday evening, September 21st, Cheryl and Sarah from Step By Step were honored to receive not only a new donation of beautiful blankets, but also diapers, baby wipes, formula and baby food that the two churches had gathered to donate to us. Thank you for your heartfelt generosity and your continued support of Step By Step and the many moms and babies we serve!
Puyallup PEO Group (Philanthropic Educational Organization)
Puyallup's PEO group adopted Step by Step this Christmas season! In place of a gift exchange, they purchased and made items for our "Welcome Home Bags" for new moms. They donated lots of beautiful baby clothes, stuffed animals, diapers and wipes. Thank you so much!
Ryan and Sandi Rehberg & Dori Celestres
Ryan and Sandi have been faithful volunteers and supporters of our annual fundraising dinner and auction event for years! This event takes a massive amount of time and effort to pull off and is our biggest fundraiser of the year. We can always count on Ryan and Sandi to jump in and help wherever needed. We so appreciate your support and willingness to volunteer your time and energy every year. And Ryan, thank you for being one of the most fun spotters ever! We honestly could not do this event without you both. Thank you!
Ryan is an Estate Planning Attorney & CEO of Rehberg Law Group www.rehberglaw.com
Dori Celestres
Dori has headed up our dessert auction for over 5 years! The dessert auction is always a fun element of this event, and Dori never fails to impress us with her ability to bring us fantastic and beautiful desserts. It is no small task to get some 15 desserts and cakes donated (and transported, no less!) to our auction each year. This year we had so many compliments on the uniqueness and beauty of our dessert display. Multiple event managers at Newcastle said it was one of the finest displays they have ever seen! Thank you Dori for taking on this big task and pulling it off year after year!
Jeni Myhre
Jeni is a volunteer mentor who exceeds all expectations. She has a tremendous amount of compassion for the moms and babies we serve. Jeni is great at meeting moms wherever they are at and supporting them emotionally and socially, as they work towards their goals. She has visited with moms in their homes, played with their babies with them, helped with home organization, helped a mom get settled into her new place, but above all else she is simply a positive source of support and a friend. Jeni has a gift of encouragement and is good at helping moms to identify and use their strengths. She has also donated baby clothes and items, helped clean and transport donations, and much more to support Step By Step and the moms we serve.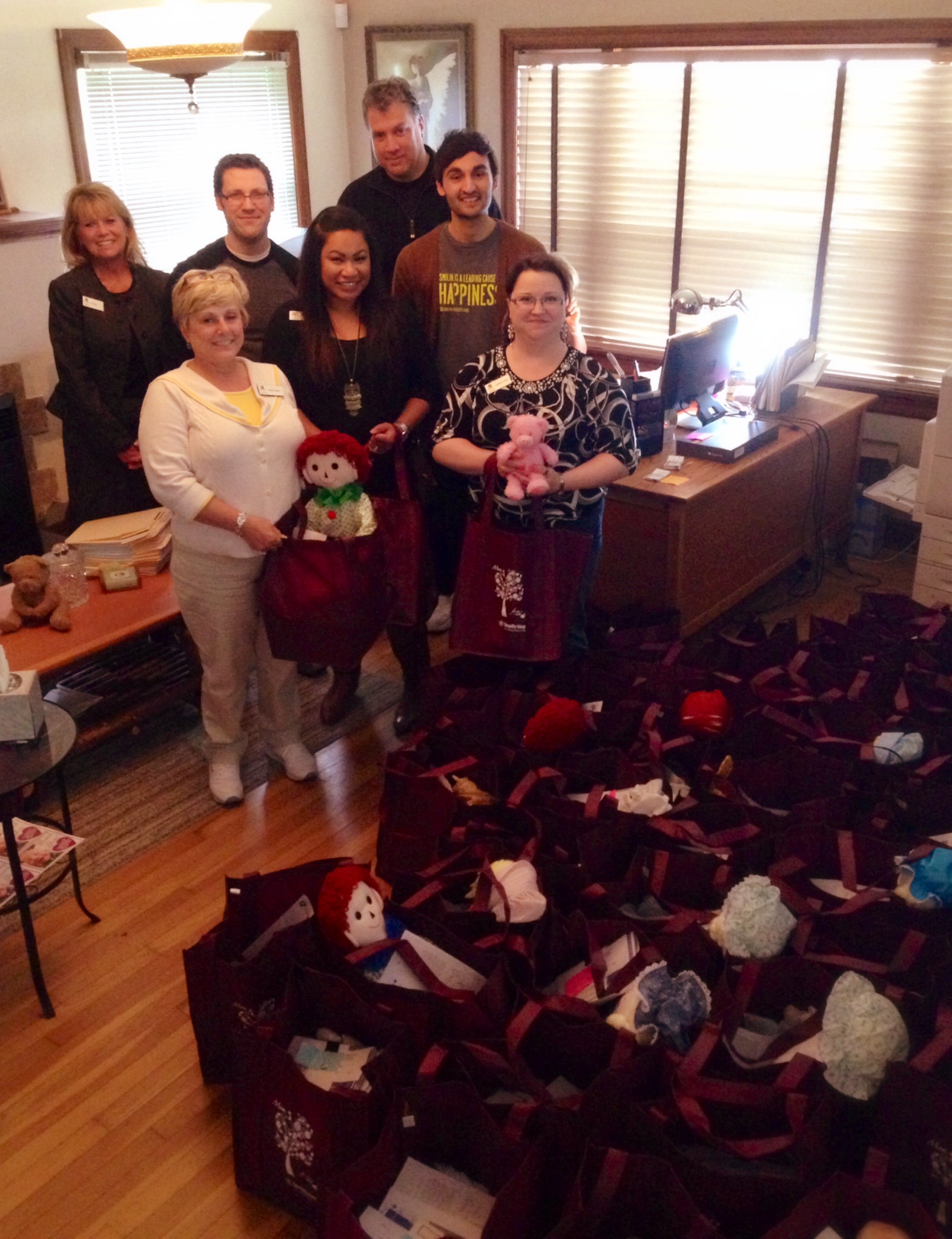 Umpqua Bank Volunteers & Rogers High School Key Club
Umpqua bank employees have volunteered with us a number of times over the past few years. A new group joined us a few weeks ago to help assemble charts, address envelopes, and organize items to put together gift bags for new moms. These guys are amazing workers. They always complete the tasks we give them in record time! This visit, they also put together over 60 Welcome Home bags for new moms.
Rogers High School Key Club
Rogers High School Key Club students surprised us with over 30 blankets that they made and donated for moms and their new babies
Puyallup Food Bank
The Puyallup Food Bank has supported Step By Step in a number of different ways over the past few months, and we are so thankful for their partnership! They donated water and granola bars for our fundraising 5k Walk/Run, as well as candy and supplies for our upcoming Christmas Celebrations. They have also donated diapers and baby wipes, feminine hygiene products, toys, and other donation items that we are always in need of and struggle to maintain and provide for our most vulnerable moms and babies. Thank you!!!
Jim Woolace and Evidence Designs
Jim donated his graphic design skills to help us design the event t-shirt for this year's fundraising 5k Walk/Run. He also donated his time as a professional photographer to cover the event and took some fantastic photos!
Sherri's Cookies & The Tacoma Rescue Mission
Sherri's Cookies
Not only did Sherri offer to make cookies for our kids' Cookie Decorating station, for this past weekend's South Christmas event, but she also made cookies for our volunteers! She made these AMAZING custom designed sugar cookies to help us thank the hundreds of volunteers at our South event that make this event possible for the families we serve. We were totally blown away, and these cookies tasted as good as they looked! Sherri, we can't thank you enough for your thoughtfulness. These were wonderful!
Tacoma Rescue Mission
The Tacoma Rescue Mission has been providing the mashed potatoes for the dinner at our annual Christmas events for the last ten years! They donate potatoes to feed approximately 1,200 people! One of the churches that hosts this event does not have a kitchen, and providing this dinner would be significantly more difficult without the support of the Rescue Mission. Thank you so much for serving our families and helping us to make this event possible each year!
Isabella
Isabella, 5th Grade President at Lynnwood Elementary, picked Step By Step for her Empathy Project. Together with her class, she held a diaper drive that brought in over 1,000 diapers!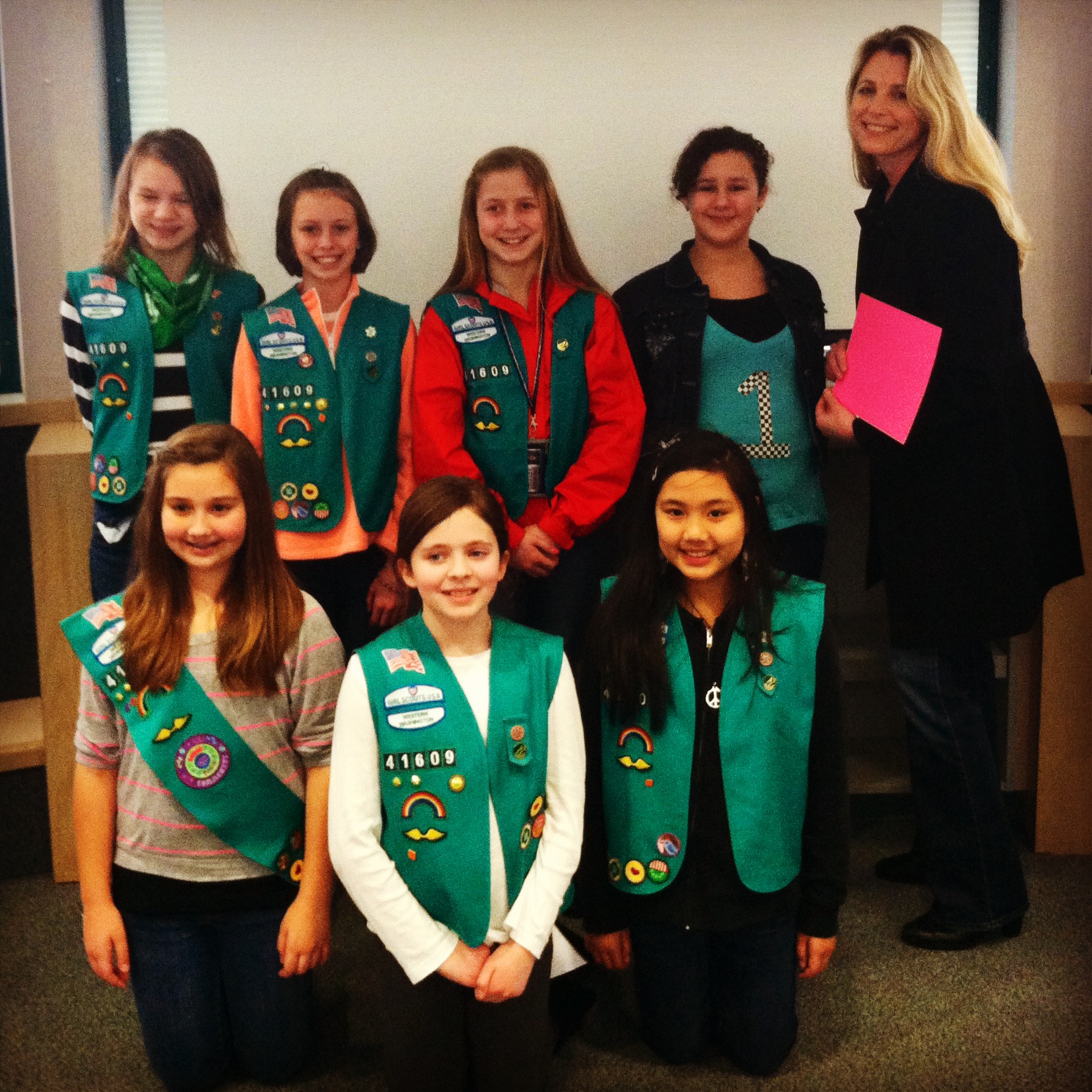 Girl Scout Troop #41609
Girl Scout Troop #41609 donated some of their cookie sale money to Step By Step. Every dollar counts, and we are honored that they picked us! We love seeing kids help other kids!
Fred Granados
Fred was our auctioneer this year at our March Dinner & Auction. He did a fantastic job, and went above and beyond to help us make this event a success! We so appreciate all of the time, effort, and resources he made available to us leading up to our big night. It was a great success, we loved working with him, and he made the night extra fun!
Aaron Russell
(not pictured) Aaron helped us create the client testimony video shown at our March Dinner & Auction. He donated countless hours, driving all over Western Washington to get interviews, provided his own equipment and staging, and much more! He created a beautiful story for us about Step By Step and some of the families we have been able to serve over the years.
Pat Hamilton - pictured Krista (right) and Pat (left)
Pat has volunteered for the past four years in Step By Step's billing department. She researches unpaid First Steps billing and helps recoup funds. We appreciate her volunteer spirit and for helping us preserve resources! Pat also donates towards Step By Step's scholarship fund. Thank you Pat!
Danielle Jorgensen
Journey Church hosted a fantastic community baby shower, and we were honored to be able to partner with them to help out and to provide a fun event that benefitted many of our Step By Step moms. Danielle did a great job coordinating this event!
Eline Nelson
Eline is a CPA for World Vision and has volunteered her expertise on multiple occasions. Last year, she interviewed staff and board members and went over our financial records in order to develop a risk assessment for our organization. This assessment helped us lay out some goals and strategies for the coming years. This year, she performed an informal internal audit of our books and reviewed our processes. We truly appreciate her expertise as we strive to operate at the highest level possible!

Vera Cook
Vera Cook has faithfully donated handmade blankets and gifts for us to include in our Welcome Home packages for new moms over the past few years. These lovingly made gifts mean so much to our new moms and are a beautiful way to welcome their new babies home.
Glen & Carrie Gesell
Glen & Carrie donated a beautiful Ford Explorer to our Motors 4 Moms program. We are so thankful for this generous donation!
Cascade Christian Junior High
Cascade Christian Junior High students came out to spend some time at our office volunteering! They helped us make charts, put together information packets for new moms, and create Welcome Home Bags. Thank you!
Elizabeth Perrin - pictured: Sarah (right) and Elizabeth (left)
Elizabeth regularly spends time helping us out at the office, and she has also volunteered at our Christmas parties, sorting clothing and donations, helping put together Welcome Home Bags for new moms, and lots more! Thanks Elizabeth!
Karin Crane
Karin Crane has lead our partnership with Umpqua Bank, which has resulted in a team of 44 participating individuals and 156 volunteered hours over this past year! They have helped create our Welcome Home packages for new moms, helped out at our office, and held diaper drives that have brought in thousands of diapers and wipes for moms in need. This is also Karin's 3rd year partnering with us for our 2013 South End Christmas Celebration. She is already collecting donations and items needed for the event.
Apple Physical Therapy, Bothell Clinic
Apple Physical Therapy manned our food and beverage station at our North end 5k Walk/Run! They donated some snacks and beverages and offered free injury screenings at the event. Their Bothell clinic specializes in women's health and treating pregnant women, so they were a great fit and we were happy to have them there and grateful for all their help!
Pastor Rogers and Lighthouse Christian Center
This is Roger's 9th year promoting and organizing Step By Step's Christmas Celebration in partnership with Lighthouse Christian Center.
Lighthouse provides over 300 volunteers from their community to make this event happen. They also help to provide gift cards and food bags for all of our clients.
Pastor Steve & Pam Michiels, Kara Garcia and Northview Community Church
Steve & Pam headed up the North end Christmas Celebration, hosted at Northview Community Church. They have a huge heart for our moms and we are blessed to have their support! Kara Garcia, one of our veteran volunteers graciously stepped in and helped facilitate the event alongside them and their team of over 200 volunteers! This was Northview's first year hosting the Christmas Celebrations and they took on this massive challenge and did a fantastic job!
Sammie
Sammie is a previous client and hard working mother of two. She is recognized for her master couponing and her many artistic abilities. She often sells her crafts at local art shows.
Sammie has a huge heart and is always looking for ways to be generous and to give back. Sammie's family participated in Step By Step's walk-a-thon last May. She then joined the drama troupe that performed for Step By Step's Fall Celebration event in October. She also recently volunteered at our fundraising dinner and auction.
Over the past year, Sammie has donated copious amounts of gently used clothing and baby items to help other moms. She crafted glass ornaments with Step By Step's logo suspended inside as Christmas presents for some staff members. She also has plans to sell her crafts on-line and donate proceeds to help support Step By Step.
Yanessa
Yanessa is a former client. She now donates on a monthly basis to help support Step By Step. She is an avid "couponer," and she buys basic necessities in bulk, such as toothpaste, deodorant, etc so she can give the extras to help other moms. She has two daughters now, and donates her children's clothes and toys as they outgrow them. She says she greatly appreciates the help that Step By Step gave her when she was a client, and she wants to be a part of helping other moms, as they work to better their own lives for their children.
Eastside Baby Corner
Eastside Baby Corner is a national organization that has recently accepted Step By Step into their program as a Family Assistance Provider Partner. They help provide us with donated items for our clients. Everything from diapers, clothes, formula, toys, cribs, layettes, and the list goes on and on. We are so excited about this partnership and we can't wait to see the impact it will have on our clients and their families!
Bob Ward
Bob has taken the initiative to start "Motors 4 Moms" – a new program to acquire used vehicles for Step By Step clients who have a proven need for better access to reliable transportation.
"Motors 4 Moms" will help clients achieve their next steps in seeking self sustainability and higher employment opportunities. Two cars have already been donated to clients!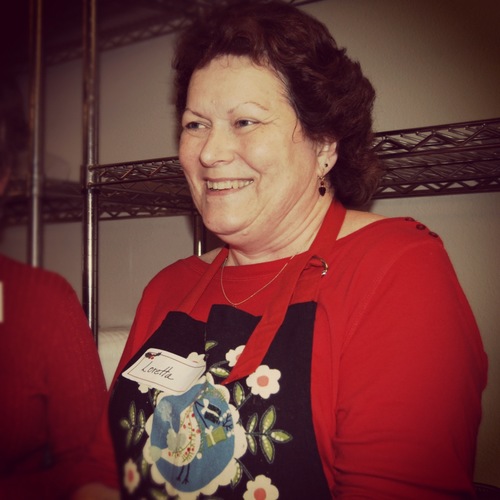 Loretta Trainor
Loretta Trainor helped coordinate and manage the North Christmas celebration. She oversaw the kitchen and volunteers that served Christmas dinner to our families. Serving over 500 in under 3 hours is no small task, and she did it with a smile!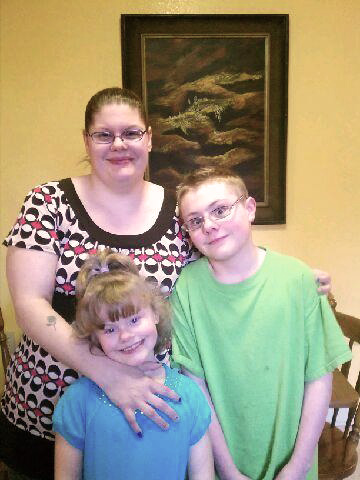 Roychelle
Roychelle is a previous client and has two children. She works for Lutheran Community Services and has a passion to care for and help others. As a low income mom, she works hard to provide for her family. Extremely wise and thrifty with her money, she is a caring and good role model for other moms facing similar challenges. She has accepted the responsibility of being the houseparent and living with moms at our new housing residence in Tukwila. She hopes this experience will continue to allow her to grow and learn and that she can help others, as they seek to provide healthy and happy homes for their children.

Clear Channel Radio
Clear Channel Radio has generously aired Public Service Announcements on their radio stations to help us get the word out about our services! They are also going to help us generate awareness for our upcoming community-wide diaper drive.
We have already had a few moms-in-need connect with us for support, because they heard about us on the radio. Thank you for making a difference in the lives of moms and babies in your community!
Umpqua Bank
Umpqua Bank is hosting a community wide diaper drive for Step By Step at all 27 of their store locations in the Puget Sound area! Umpqua Bank volunteers have also helped us put together our Bringing Baby Home packages! We are so thankful for their ongoing support and partnership with our organization! Thank You!
Kim & Ray Sparks
Kim & Ray have generously donated their time and energy to transport Step By Step's donated items from the Eastside Baby Corner. Every week, they drive up with their truck and pick up these much needed items for our clients.
They have also volunteered time to sort supplies and organize our storage facility. They participated in our 5k Walk/Run and help with our annual Family Christmas Celebration.
Roy Dintelman
Roy Dintelman is an ongoing supporter of Step By Step. He has not only managed our database and billing system for over 15 years, but he also provides Audio Visual equipment and management for many of our events!
He recently ran music and sound for our 5k Walk/Run in October. It would definitely not have been as fun without him! He kept everyone upbeat and excited in spite of the rain! Roy, you are invaluable!
Althea & Michael Sanders
Michael and Althea Sanders have been instrumental over the past years volunteering at the South Christmas celebration. Althea spent her first year just helping bag food. Now, she and Michael help oversee the entire event as well as the food bag production and distribution!
Stan & Pam Burwell
Stan & Pam were absolutely invaluable volunteers on our auction committee this year! They procured the most items for the event and volunteered as hosts for two tables. They were a huge part of our event's success!
Mark & Meridee Heimlich
In March, Barry, Mark, Meridee, and some local teens helped move 4 of our client families in only 3 days! The group helped the families move out of and clean their old apartments and then helped them move into their new apartments!
Barry Lindgren & Abbey Carpet
Barry Lindgren's Abbey Carpet Truck was used to transport items. He has used his truck on many occasions to help us move our clients.
Lighthouse Christian Center
Lighthouse held a yard sale and donated all of their proceeds to support Step by Step programs. They generously donated over $4,600 which will help provide services to over 460 moms and babies!
We cannot express how thankful we are for Lighthouse's continuing partnership with our organization. They have volunteered their time, talents and treasures to help support our mission again and again. Thank you to every one at Lighthouse who has given of their time, talents, and treasures to make a difference in the lives of the women and families we serve!
Hannah Rogers
Thanks to Hannah's wonderful organizational skills and passion to serve, the 2011 North Christmas party was the largest and best ever!
Kristen Jacka
Kristen volunteers every week in our office, and she serves as one of our community meeting mentors. Kristen is also currently mentoring a client to help her pass her GED test! Our office staff says she is "an absolute gem!"
Northshore Kiwanis
Northshore Kiwanis teamed up with members from their local high school Key Club to hold a diaper drive for Step by Step. They collected $2,500 worth of baby supplies from the drive. They also fundraised $585.00 from Safeway customers. Thank you Sue Busky for orchestrating the drive!
Bethany Bible Women's Group
The Bethany Bible women's group also held a diaper drive, collecting over 2,000 diapers as well as baby wipes and formula. Many of these items have already been a huge blessing to our clients.
City Gate Youth
City Gate Youth teamed up to help serve the meal and provide child activities during our recent life skills classes. They were also a huge help in running this year's Family BBQ & free yard sale for our clients. They were instrumental in making this event run smoothly. They helped make this day extra special for our clients.
Dan Shin (left)
Anderson Law Firm
Real Estate Attorney
Jim Choi (right)
ReMax Commercial
Merger & Acquisitions
Dan & Jim worked pro-bono to help us in exploring and negotiating the possibility of being able to expand our services by relocating at a new location.
Margaret Toop & Drama Troop
Margaret & Jim Toop, Sammie (a client), Tina Bustamante, Bob & Flo King, Dan Clabots, Kimber Toop, Vicki Carlson and Gail Danforth performed a drama – "Building Home Sweet Home," at our October Fall Celebration. The skit, although humorous, depicted a very real look at some of the everyday challenges facing our clients.
The play emphasized and illustrated the impact Step By Step can have on the lives of women and their families as we serve to help them deliver a healthy baby, start building a safe home and learn positive parenting and life skills.
Janis Hanson & Althea and Michael Sanders
Janis, Althea, and Michael were key leaders in orchestrating our South Christmas Celebrations. It is volunteers like these that make these events possible for our clients each year.
GNO Group & Just Cuz
The GNO group, along with members from the local Just Cuz band, helped make the Jell-O parfaits for our Christmas dinner this year. This is GNO's 5th year helping out!