Louanne Nilson
Louanne is a definite favorite here at Step By Step! She started volunteering with us in September and does everything we can think to ask her to do, from stuffing newsletters, to washing rocks for our centerpiece vases for an event, to putting together Welcome Home Bags for new moms. Whenever we have a special project or a deadline that needs to be met, chances are that Louanne will be here, helping us to get it done. Louanne always serves with a smile on her face and brings joy to our office whenever she is here.
Louanne, thank you for the many hours you have dedicated to Step By Step. You are an invaluable member of our team!
Daffodil Princesses
Our day got just a little bit brighter, when 24 lovely Daffodil princesses showed up on our doorstep to help us with assembling Welcome Home bags for new moms. The Princesses formed a very long and very yellow assembly line and filled our bags with needed supplies for our moms and babies. They did it all with a smile and while dressed in their long yellow Daffodil formals and gloves. Now, that's talent!
They were also treated to some wonderful stories about the Van Lierop Bulb Farm from Mr. Neil Van Lierop, which included a tour of the site. We are very thankful for all of their help and for their hearts to serve at Step By Step.
Keller Williams
Wow, that's about all we can say about Keller Williams right now, just wow. They graced the doors of Step By Step early on the morning of May 14th, for their Keller Williams "Red Day" - a designated time when Keller Williams gives of their time to help throughout their community. We benefitted so much by their amazing volunteers who showed up to paint all of our offices. They transformed our space from pastel pink and lime green to something a little more neutral, and painted some beautiful accent walls with our signature Step By Step color. It turned out great and we are enjoying the fruits of their labor. Several folks also helped us out by weeding flower beds, putting together welcome home bags for our moms, and running a multi-store diaper drive which brought in over 18,0000 diapers. Thank you Keller Williams for all of your time and generous efforts. We are so thankful for your partnership with us!
The "Christmas in July Party" Team
This year, we started our first ever "Christmas in July Party" at Step By Step. A group of wonderful ladies volunteered to help us get a jumpstart on all the the prep work that needed to be done for our annual Christmas parties. We put on Christmas music, had Christmas cookies and snacks, and got to work doing inventory of all our supplies and rolling utensils for the Christmas dinner. These ladies know how to make a Christmas in July work party a lot of fun. Thank you Brenda Brewer, Mary Lindsley, Louanne Nilson, Breyale Rosand, Myrna Rosand, and Shelly Roberts! We appreciate you
Ministry Institute College Interns - from Puyallup Foursquare Church
We hit a new record for the most volunteers at our office at one time, when the interns from Puyallup Foursquare Church arrived to help. Over 90 showed up to volunteer! They arrived with a smile on their face and willing hearts to work, and work they did! They took on all sorts of different projects, from administrative work, to helping finish off the utensil rolling for our Christmas dinners (we need 1500 sets of utensils rolled!) to helping prep for our 5K, and even some office cleaning. Whatever we needed, they did, and they even serenaded us with singing, as they worked. They are indeed a very special group of young people, and we are thankful that they decided to partner with us! We hear they may make a reappearance in the Spring, and we sure hope so! Thank you!
Hydie Fenton
Hydie has become a familiar face around Step By Step. She does a little bit of everything! She helped us organize and prepare for our Christmas parties a few weeks ago, and she volunteered at the South party. She has sorted (and stacked!) thousands of diapers. She has helped prepare our quarterly newsletter, addressed envelopes, inventoried items, sorted baby clothes, and lots more. You name it, she's probably helped with it! She has a beautiful smile and a beautiful heart. Thank you Hydie for being part of our Step By Step team!
Northview Youth Group
Student Ministries director of Northview Community Church Brookes August has a lot to be proud of, as his youth group team of 6th - 12th graders brought in a total of 4, 914 diapers as a result of a diaper drive they held for Step By Step!
Students were encouraged to donate the diapers out of their own money, and both the Jr High and High School groups combined to make it a huge success.
Northview Kiwanis
The Northshore Kiwanis club hosted a drive for Step By Step that brought in 18 bins of food, household supplies, and baby items. They also procured 7 grocery gift cards and over $400 in donations for Step By Step.
We'd like to say a special thank you to Adam Brown, Andrea McDaniel, and Sue Buske who headed up the event.
Brenda Brewer
Brenda has become a huge favorite here at Step By Step. She is acutely aware of what is needed (ie newborn sized diapers, beautifully wrapped in purple ribbon). She has delivered donated car seats, baby clothes, and lots more. Whenever we see white bags filled with diapers, we know that Brenda has been here! She also lent us her wonderful crafty talents, as she made several beautiful diaper cakes for our Mother's Day event in May. Brenda didn't stop there, as she also brought along her daughter Julie and friend Patty Thomas to add to our volunteer team. We are so thankful for her amazing generosity with her time, talents and treasures here at Step By Step. Thank you so much Brenda - you are truly making a difference in the lives of our Step By Step moms,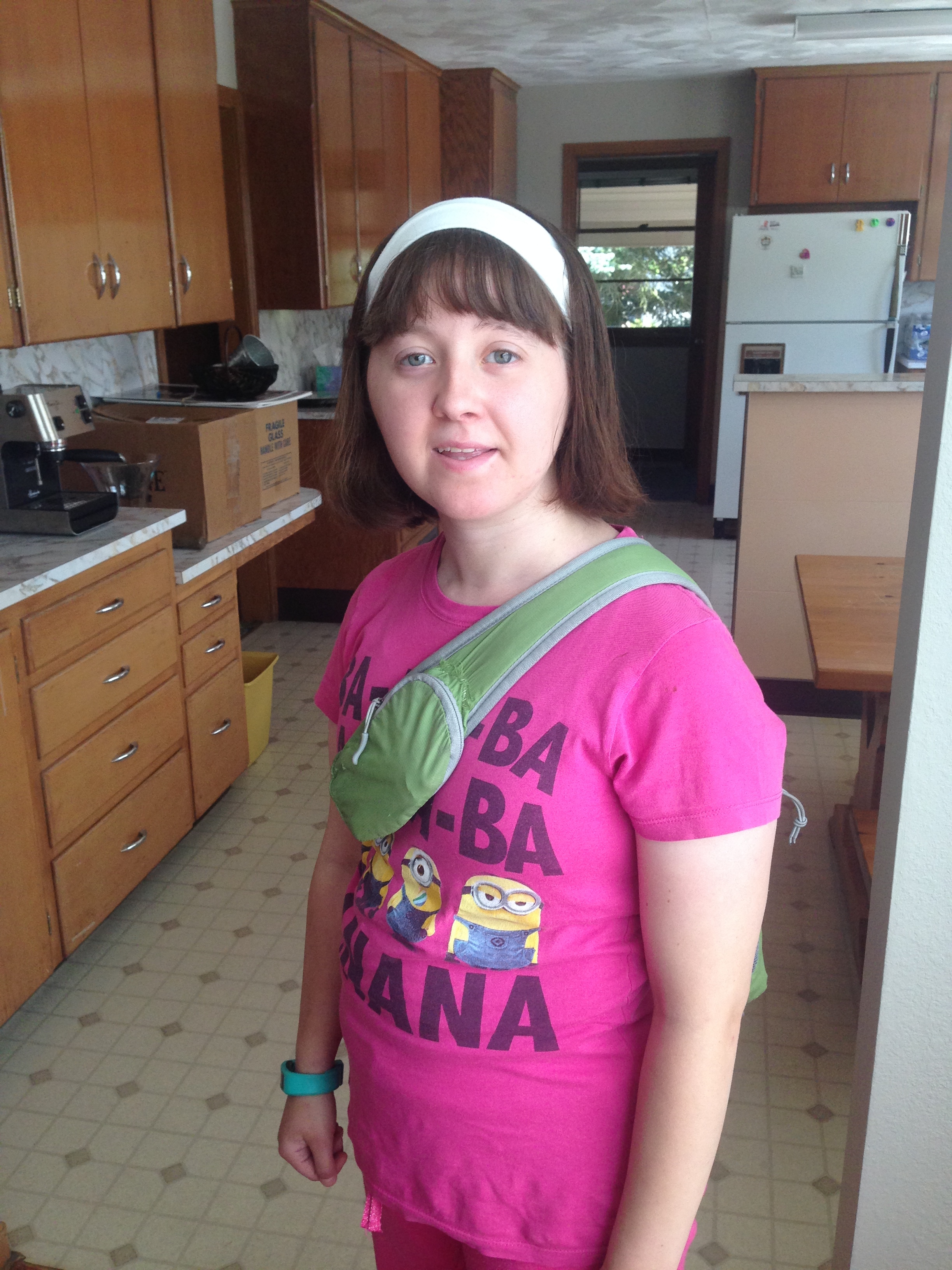 Kayla Cushing
Kayla has started working with us here at Step By Step, sponsored through the Trillium organization. From bundling diaper stacks, to sorting baby clothes, putting together welcome home bags, and assembling our informational folders, Kayla always works hard and always gets the job done while keeping that great smile on her face! Thank you Kayla for all of your help, we really appreciate you!
Nancy Teodoro & Robbie Heath
These two ladies are affectionately called "the dynamic duo" around here at Step By Step. When they come and work together, we know that whatever they get done will be done with love, care and excellence, and in record time! We knew they were winners when they still came back after serving their first day. It was a record breaking hot summer day and our upstairs baby room was more than a little bit toasty! We joked that they got their "hot yoga" in for the day. They didn't complain, and they are still going strong, helping out with anything that is needed. They are proof that you can make anything fun, when you are working together with a friend for a good cause!
Shanna and the Puyallup Food Bank
The Puyallup Food Bank has been an invaluable resource to us this year. Not only have we acquired a whole new respect for Shanna, the Executive Director-Master Forklift Driver-Super Woman, who runs the Puyallup Food Bank with some serious pizzaz, but they have helped us out in multiple ways this year. We were given snacks and drinks for our fundraising 5k, canned goods and food items for our moms, diapers, baby wipes, food items needed for our Christmas parties, and lots more. A few weeks ago, Shanna texted Cheryl that she had something special for her, and she gave us these beautiful chocolate covered fortune cookies for our Volunteer Leaders' thank you gifts. Shanna, you continue to bless us and our families. Thank you for your support and encouragement!
Dr. David Crouch's Orthodontist Office
Dr. David Crouch's office set up a Giving Tree in their office, starting in November, to bring in gifts for some of our moms and their children. They donated a sleigh-full (aka completely filled two of our staff vehicles) of beautifully wrapped presents, for over 50 of our families! When they arrived at the office, we completely filled the kitchen area with gifts. The staff couldn't stop gushing about them all day long. As we write this, all those gifts are getting loaded into different case manager's vehicles, so they can hand deliver them to their client moms. Many of our families really struggle during the holidays, and these gifts are going to bring a lot of Christmas cheer! Thank you so much for your generosity and thoughtfulness!